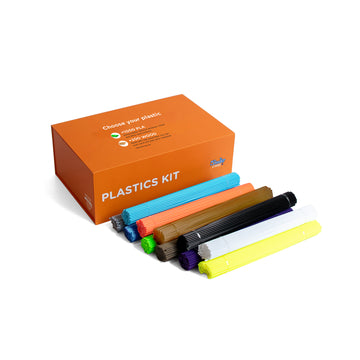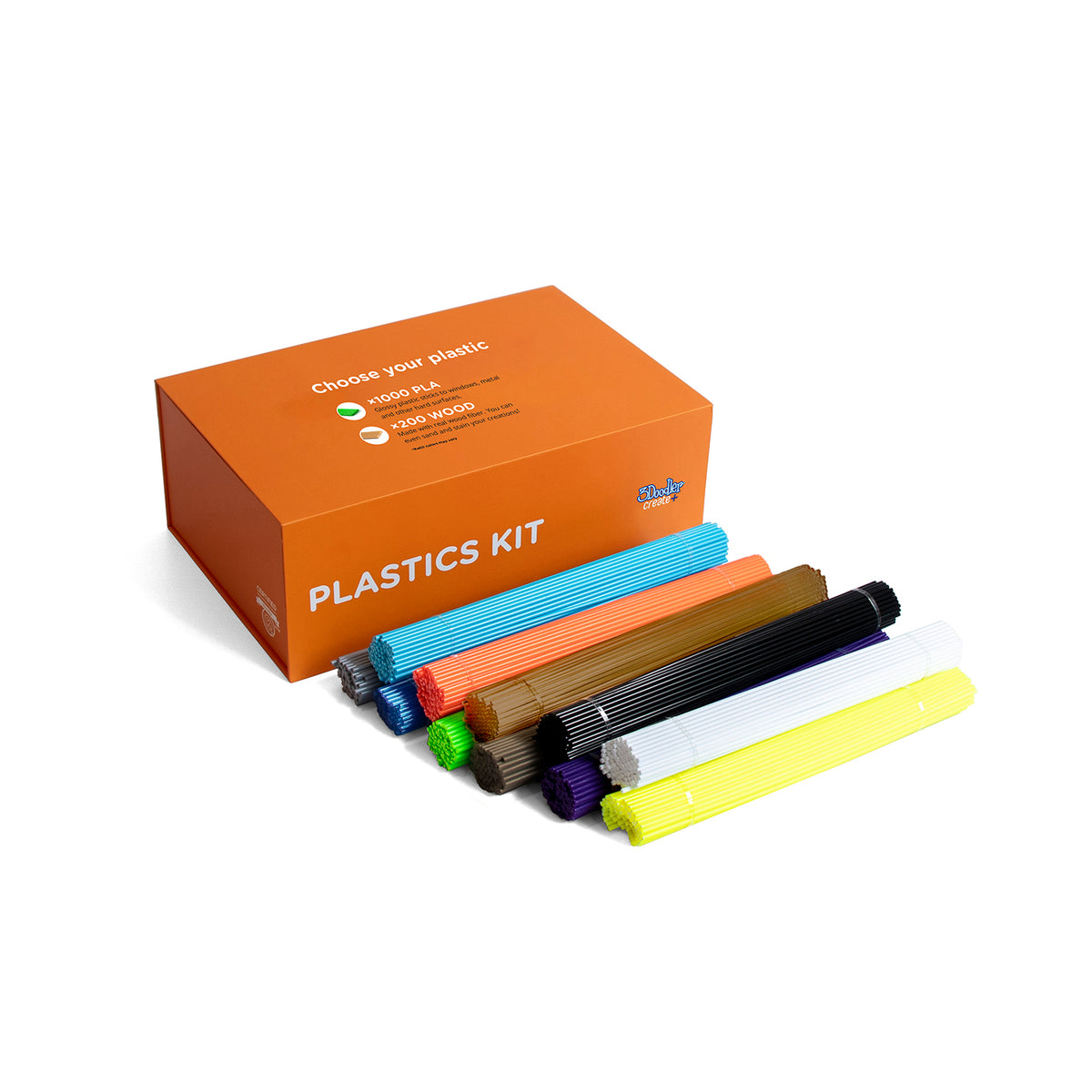 3Doodler EDU Create+ Learning Pack Plastic Kit, 1200 Strands
New Item!
Variety of colors & filament types: Includes 1,200 strands of PLA plastics in a variety of colors.
Versatile Doodles: Our mix of PLA will give students a variety of Doodling options from drawing in the air, to making creations that you can squeeze, stretch & twist!
Safe and Non-toxic: Our filament is non-toxic, and recyclable.
California residents:
Please
click here
for Proposition 65 Warning. Please
click here
for the updated manual that will also ship with your product.
Product Details
The 3Doodler Create+ Learning Pack Plastic Pack gives you 1,200 strands of 3Doodler plastic in mixed types and colors for hours and hours of fun and educational Doodling! This pack is ideal for teachers looking for extra plastic to equip their 3Doodler EDU Create+ Learning Pack. The plastics are non-toxic, BPA free, and recyclable.
NOT COMPATIBLE WITH 3DOODLER START+ PENS

Warranty
365 Day Warranty: We deliver on our promises, and our awesome customer service team is always here to help! Know that you can contact us at help@the3doodler.com if you have any questions or concerns.
Shipping Info
Usually ships within 1-2 business days from the USA, delivery options available at checkout.
In the Box
1,200 Strands of Plastic Filament (PLA; Colors May Vary)
SKU
8CPLFILLED
Item Weight
3.35 kg
Frequently Asked Questions
My Learning Pack did not come with Challenge Cards and Storage Pouches. What's up?

If you placed an order containing a Learning Pack on or after January 1, 2020 from our website, Amazon, Best Buy, or through one of our resellers, you may be eligible to receive Storage Pouches and Challenge Cards if you didn't receive them with your original order. Note that eligible orders of 6-pen Learning Packs will get 6 storage pouches and 6 sets of Challenge Cards, and orders of 12-pen Learning Packs will get 12 storage pouches and 12 sets of Challenge Cards. Please fill out this form to check your eligibility. Thank you!

How do I sign up for an EDU account?

To qualify for an EDU account, you'll need to register with us. Please be sure to register with your education email address for a faster approval process. Once you've done this, there will be a short review process (usually two business days or less), and then you'll be granted access to the 3Doodler EDU Store.

Can you give me a quote for an EDU purchase?

If you would like a quote, the first step is to make sure you've registered for a 3Doodler EDU Account. Once your EDU account has been approved you can log in to view the EDU discounted pricing. For a completely accurate quotation that includes shipping, and duties, you can place the items you wish to order in the cart on our site and go through the motions of checking out. The system will then give you an accurate quotation. If you would like more information about setting up an EDU account, please email edu@the3doodler.com and we will walk you through setting it up!

Do you accept Purchase Orders as a form of payment?

We do accept POs as a form of payment! If you're interested in placing a PO you can email edu@the3doodler.com for more information concerning payment via Purchase Order. POs themselves should be sent to: po@the3doodler.com.
Our
Plastic Promise
We want you to trust every Doodle you or your children create! That's why we partner with the best engineers and factories around the world, and source only the highest quality plastics.
All 3Doodler plastic strands are made from the highest quality materials, at factories in the US, UK and Spain, and they have all been subjected to the strictest standards of safety testing. This includes passing RoHS testing, Toxological Risk Assessments, LHAMA compliance testing, and heavy metal testing by labs including Intertek and Bureau Vertias (two of the world's most reputable testing labs).
Over 2,500,000 Happy 3Doodlers!