3Doodler Start+ Learn from Home Bundle
New Item!
Available only at the3doodler.com
Perfect for STEM Learning Fun: Inspires creativity, design, planning, building, and spatial understanding.
The Complete Learning Tool: Packed with 9 challenge cards, mini DoodlePad, and a convenient storage pouch. You'll never run out of Doodling ideas and you have an awesome-looking way to organize your 3Doodler products!
Child-Safe: Designed with no external hot parts, completely safe for kids ages 6-13.
Add the 3Doodler "What Will You Create?" Project Book and take your doodling skills to the next level!
Product Details
Our easy-to-use, uncomplicated technology drives student engagement and comprehension of critical STEM subjects. Learners aged 6-13 years old will thrive when they experience what it's like to use their hands and minds as they bring their ideas to life in 3D! 
This 3D printing pen and its creations are not hot to touch and use low-heat, BPA-free, and non-toxic plastic, making it completely safe for kids to use. The 3Doodler Start plastics are even home compostable! As a tactile learning toy, the 3Doodler Start inspires creativity, design, planning, building, and spatial understanding - perfect for STEM learning!
3Doodler Start is also the proud winner of Toy of the Year 2017 (Rookie category), and winner of numerous awards including Good Housekeeping's 2016 Best Toy Award, The Oppenheim Toy Portfolio Platinum Award, National Parenting Product Award, Scholastic Parent & Child GOLD STAR TOY Award, and Toy Insider STEM 10 to name a few.
In addition to our Start+ Pen Set and an assortment of additional plastic strands, we've included one of our DoodePads, plus exclusive PDF access to the "What Will You Create Project Book." Not to mention, hours of FREE online educational content, including lessons, stencils, tutorials, and how-to-videos, are all available on our website. What is more, kids, parents, and educators can tune into our Learn from Home Webinar Series via YouTube.
Warranty
365 Day Warranty: We deliver on our promises, and our awesome customer service team is always here to help! Know that you can contact us at help@the3doodler.com if you have any questions or concerns.
Shipping Info
Usually ships within 1-2 business days from the USA, delivery options available at checkout.
In the Box
SKU
Item Weight
0
Frequently Asked Questions
What plastics can I use with the 3Doodler Create?

The 3Doodler Create is compatible with official 3Doodler ABS, PLA, and FLEXY filaments. Please do not try to use the 3Doodler Create with any third party filaments, or 3Doodler filaments exclusively for the 3Doodler PRO or the 3Doodler Start.

Does 3Doodler plastic emit harmful fumes?

3Doodler plastics have been tested for heavy metals, and have undergone full toxicological risk assessments, passing each and every test. Some users notice a slight "plasticy" smell when using ABS. Many users prefer the smell of PLA, which, being corn based, can smell like popcorn. No matter what material you're using, and whether you're using a 3Doodler or a traditional 3D printer, we recommend working in a ventilated area.

What kind of maintenance is required?

The 3Doodler does not require much in the way of maintenance. Please see our other FAQ in the event of feed issues or jams, or feel free to contact us by emailing here: help@the3doodler.com
On / Off Switch
On / Off Switch
Slide this switch to turn it on. Allow 1 minute for the pen to warm up. Out of power? Charge it up!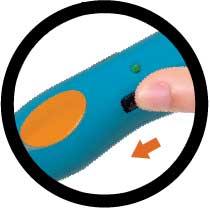 LED Light
LED Light
Red: Warming Up
Green: Ready to Doodle
Flashing Yellow: Charging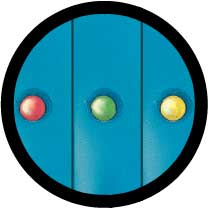 Insert a Strand
Insert a Strand
Pick a color and then feed in the strand until you feel it grip.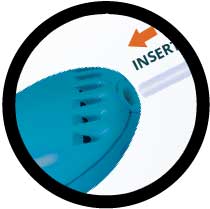 Click to Start. Click to Stop. Double Click to Reverse.
Easy Operation
Click to start, click to stop, double click to reverse. It will take 10-15 seconds for a new strand to feed through the pen, then you can start Doodling in 3D!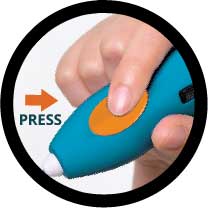 Pen Nozzle
Pen Nozzle
Our plastic hardens after a few seconds, giving you time to shape your Doodles to perfection.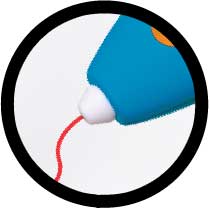 -->
Over 2,500,000 Happy 3Doodlers!