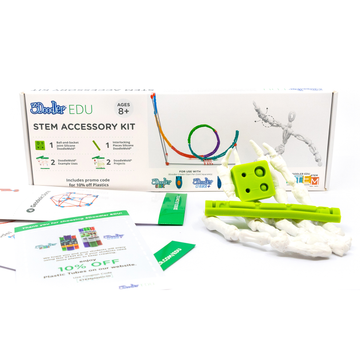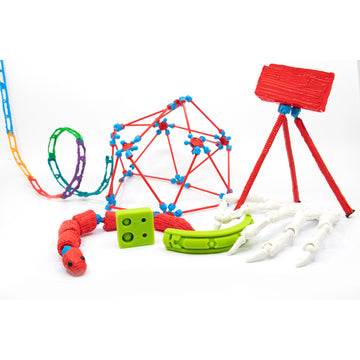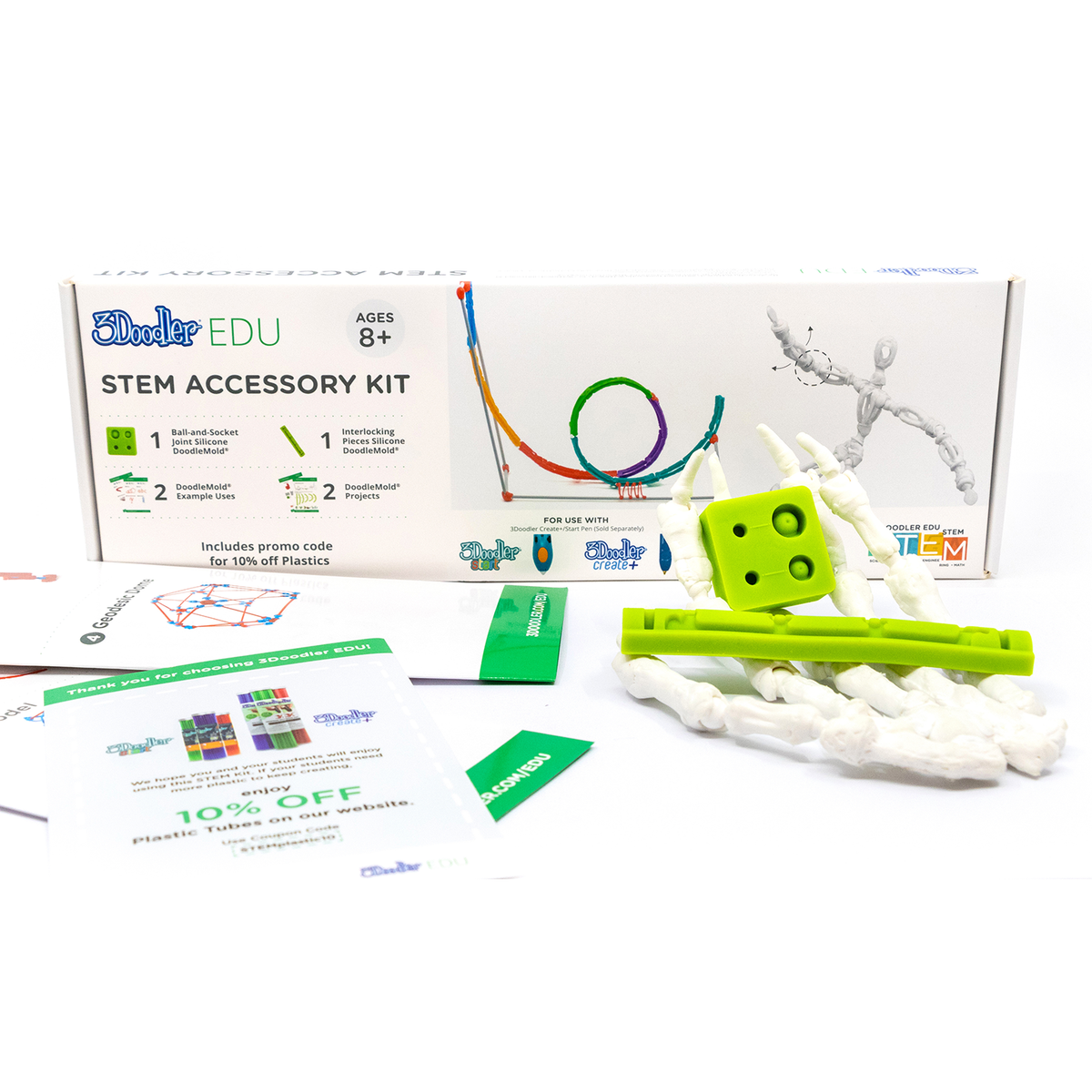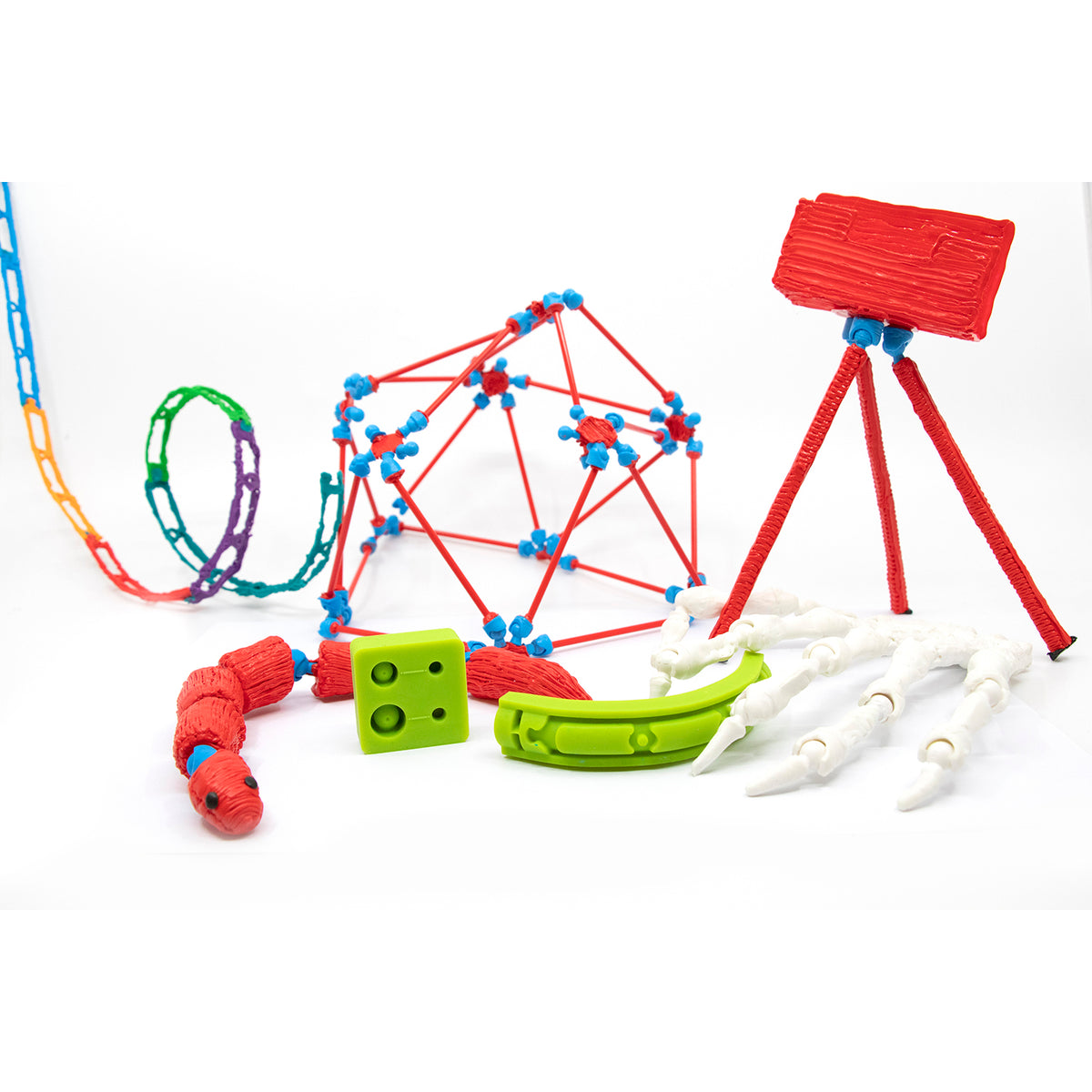 3Doodler EDU STEM Accessory Kit
New Item!
Versatile STEM Learning: The 3Doodler EDU STEM Kit is a set of versatile accessories that bring hands-on STEM learning to life!
DNA, 3D Geometry, Moving Joints, and more! From articulated hands to geodesic domes, working rollercoasters and DNA helixes, students can use the STEM Activity Kit to innovate in 3D!
Includes Reusable Molds: Ball and Socket DoodleMold and Interlocking Piece DoodleMold
Compatibility: Works with both the 3Doodler Start and the Create+ pens
Product Details
The 3Doodler EDU STEM Kit is a set of versatile accessories and activities that takes your educational Doodling to the next level.

With this STEM add-on, you can do (and Doodle) more, bringing sought after STEM-innovation to your classroom. From Articulated Hands to Geodesic Domes, working Rollercoasters, and DNA Helixes, students can now use the STEM Activity Kit to innovate in 3D with their 3Doodler Start or Create+ pens!

An exciting new addition to your STEM repertoire. Designed for students in grades K to 12.
Warranty
365 Day Warranty: We deliver on our promises, and our awesome customer service team is always here to help! Know that you can contact us at help@the3doodler.com if you have any questions or concerns.
Shipping Info
Usually ships within 1-2 business days from the USA, delivery options available at checkout.
In the Box
x1 3Doodler ball-and-socket silicone mold
x1 3Doodler roller coaster mold
x2 activity sheets packed with ideas & project blueprints for each mold
SKU
Item Weight
0
Frequently Asked Questions
How do I sign up for an EDU account?

To qualify for an EDU account, you'll need to register with us. Please be sure to register with your education email address for a faster approval process. Once you've done this, there will be a short review process (usually two business days or less), and then you'll be granted access to the 3Doodler EDU Store.

Can you give me a quote for an EDU purchase?

If you would like a quote, the first step is to make sure you've registered for a 3Doodler EDU Account. Once your EDU account has been approved you can log in to view the EDU discounted pricing. For a completely accurate quotation that includes shipping, and duties, you can place the items you wish to order in the cart on our site and go through the motions of checking out. The system will then give you an accurate quotation. If you would like more information about setting up an EDU account, please email edu@the3doodler.com and we will walk you through setting it up!

Do you accept Purchase Orders as a form of payment?

We do accept POs as a form of payment! If you're interested in placing a PO you can email edu@the3doodler.com for more information concerning payment via Purchase Order. POs themselves should be sent to: po@the3doodler.com.
Over 2,500,000 Happy 3Doodlers!